Belarus culture tours
Book these Minsk tours to feel the spirit of Belarus culture: original village houses in Ozertso, folk crafts in Dudutki Farmstead and UNESCO sights of Belarus.
Jewish Heritage Package Tour
updated on 07/02/2020
Are you seeking to travel to Belarus independently cutting out incompetent middlemen – visa bureaus and travel agents? Would you like to explore the Jewish heritage of Belarus with a certified local tour guide and at the same time go off the beaten track? This two-day, one-night itinerary is just for you!
Day 1
1000 Minsk city tour with a major accent on Jewish Heritage: Government House, Lenin Square, Victory Square, the area of the Jewish ghetto in Minsk (second largest in the USSR, existed between 1941 and 1943) including the Pit Memorial and other sites that elaborate on once thriving Jewish community in Belarus. There will be a chance to stay at a farmstay located in a traditional Belarusian village.
A quick lunch and departure to Grodno (270 km, 3+ hrs). On the way a comprehensive account of the history of the 600-year Jewish community in the context of the history of Belarus, interesting examples and cases, discussion is most welcome.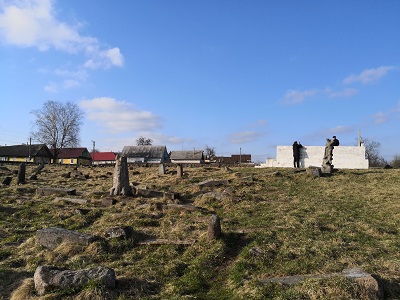 Volozhyn Jewish cemetery, 2019
At 1200 we will drive into Volozhyn which once had a prominent Volozhiner yeshivah, the mother of all yeshivas, which produced a good number of learned Jews. Established in 1803 it had up to 400 students every year. The Jewish cemetery of Volozhin has survived and has been fenced off. The grave of the rabbi Chaim ben Itshack (Chaim Volozhiner) is a place of prayer today. This man was one of the greatest enlighteners of Judaism of his time.
Volozhyn Yeshiva building, air view
1400. We will cover 150 km to Radun talking about the history of Jews in Belarus. Radun is a small town near Lithuanian border, but also an emerging tourist destination of the Jewish pilgrimage tourism in Belarus. Radun is important for the grave of Chaim Chafez, an outstanding rabbi and philosopher. The grave itself was recently recovered with the help of the local elders.
Radun Yeshivah building
1900 After a quick branch in Grodno, hotel check-in and the tour of the country's most European city still rich in historic heritage. Market Square, New World District, Choral Synagogue and the nearby ghetto area, Old Jewish Cemetery, beautiful churches and street blocks of Grodno are followed by free time.
Day 2
0900 Depart for Novogrudok Ghetto Resistance Museum (150 km).
Descendants of the ghetto escapees listening to the story in Novogrudok Jewish Resistance Museum
1230 After a quick look at Novogrudok and the ghetto area a lunch in Novogrudok followed by a drive to Kroman Lake in Naliboki Forest. Wildlife, landscapes and the history of the Jewish partisan team of the Bielski brothers, reenacted in the Defiance Movie which was shot in Lithuania though historic action took place in Belarus, this very forest.
1400 Leave for Mir town to have a lunch in Mir Castle (a UNESCO site since 2000) and take a look at Mir Jewish sights: memorial to the Jews of Mir killed in 1941 by the Nazi, Mir Yeshiva (today exists in New York and Jerusalem), the story of Oswald Rufeisen and a look at the local way of life of the Belarusian countryside.
Mir Castle, air view
1800 Leave for the Forest Inn farmstay located a short ride away from Mir (or head for Minsk).
Distance covered: about 750 km
Pricing depends on the number of guests, mileage and detours down the line, but is transparent and can be double-checked from the customer's side. Price only covers my guiding and transportation fees plus a SGL room at the destination hotel.
Visa support to Belarus and insurance can be provided on request, they are subject to a separate fee both services come from my partners.
I'd be happy to retailor the itinerary for you, especially if you have your own Jewish heritage sights to visit. If you wish to stay in a traditional countryside house near Naliboki forest, my little inn is at your service!
Jewish Package Tour
Featured