Belarus culture tours
Book these Minsk tours to feel the spirit of Belarus culture: original village houses in Ozertso, folk crafts in Dudutki Farmstead and UNESCO sights of Belarus.
Belarus package tour
updated on 07/02/2020
POSSIBLE BONUS: Watching bisons in the wild!
The list of sights we'll see in 3 days: a fortified church in Murovanka, 1540s, Grodno sights, including UNESCO candidates, National Park Belovezhskaya Puscha, the White Tower, Brest Fortress and other sights, manor of Kosciuszko, castles of Nesvizh and Mir, Minsk city sights and some bonuses, like a night in a real village!
If you are planning to tour Belarus and you are short of time, as is always the case when traveling across Europe, a package tour with a private Minsk guide could be a good solution. Please, consider choosing my Belarus package tour that covers country's major highlights within 3 days and 2 nights.
Since Minsk is in the center of Belarus and to observe the visa-free policy, it is logistically convenient to land here and start a journey through the highlights in the province. The country is very compact so there will be no long rides without proper facilities on the way. By the way, petrol stations from my recent experience make the best toilet stops.
In my opinion, Western and Southern Belarus make the best destinations in view of the heritage that survived the world wars, including three UNESCO World Heritage pieces: castles in Mir and Nesvizh and Belovezhskaya Puscha National Park and several candidate sights.
Mir Castle, one of the top-five sights in Belarus
Eastern Belarus is not that rich in sights though these might also be incorporated into our Belarus package tour. On top of these a few bonuses can be added to the itinerary to make it a comprehensive experience.
Suppose you have only three days and two nights to see Belarus with Minsk landing at midday. Visa process handled in advance (if needed) and hotels in Grodno and Brest booked, with not too much time on our hands we will take a transfer to Grodno. The latter and Minsk are 280 km apart, and on the way we will make a stop at the 16th century church of the Nativity of the Holy Godmother. It is a very lovely fortified church located in Murovanka Village, a tiny hamlet by the M6 highway to Grodno.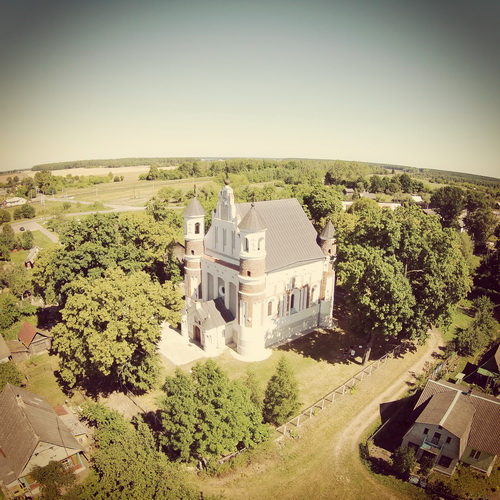 Murovanka Church, one of the several fortified churches in Belarus
We move on to Grodno to check into our central hotel take a few moments to brush up and take a guided city walk.
A stop at a local supermarket might prove useful to exchange dollars or euro into local currency, $100 equivalent being enough of pocket money for the next three days as long as you don't mind using your card to pay the restaurant bills (most accept cards).
Grodno Kolozha Church, 1180s, Belarus tour package
Grodno is a fabulous city whose whole blocks built in the 18-19 centuries have survived the ugly treatment of the Soviet government that followed the Great Patriotic War. The two world wars flattened over forty per cent of the city's buildings but what remains is most spectacular, especially in the night lights. Grodno features a 16 century Roman Catholic Church with the Europe's oldest working tower clock overlooking the Market Square. The castle hills offer great views of the Neman River and the Old Bridge and Sovetskaya pedestrian Street make splendid walking venues.
Next morning we are checking the other side of the city divided into two parts by the river – the division that designed the city the way it exists now. The highlights of the morning: Kolozha Church of StSt. Boris and Gleb of the 12 century, a unique piece of the original Belarusian church architecture and Novy Swiat district. The latter area became the territory of Grodno in 1875 and is notable for its peculiar architecture: wooden houses built specifically as city dwelling houses and constructivist masonries of the 1930s.
Grodno Nowy Swiat, Belarus tour package
The atmosphere of Novy Swiat is most captivating before or shortly after a shot of morning coffee. Before leaving for Brest we shall have one in the pedestrian street of Grodno contemplating the beams of the rising sun and the residents walking towards their workplaces. In between we will cover the twin Square of Grodno named after two prominent historic characters one of which is the inescapable Lenin and its area, including the valley of the Gorodnichanka River (former Royal Botanical garden), St. Sophia Church and the Lutheran Kirche.
Grodno Choral synagogue, late 19 century, Belarus package tour
A ride to Brest definitely includes a stop at Belovezhskaya Puscha – the Europe's oldest protected reserve and respectively the oldest authentic forest. Kings used to hunt here since ancient times and although different regimes tried to make commercial use of the forest their frequent change was also conducive to its preservation.
Belovezhskaya Puscha – puscha is an ancient thicket in Belarusian – makes an admirable walking ground. Traffic – human and vehicle – is reasonably limited in this national park so the views of pine and birch and maple forests will only be interrupted with the sight of natural lakes. Who knows maybe a bison will be kind enough to pop into our path and pose for a picture!
Belovezhskaya Puscha walks: if you ever wondered how a typical Belarusian forest looks like, a 6 km Lake route is the best way to find out)

Posted by Minsk Guide on Tuesday, 30 June 2015
A quick lift to Brest goes via Kamenets – a charming 12 century tower survives there, the remains of the medieval castle whose ruined basement by the river still can be traced from the top of the tower. Kamenets used to be a mostly Jewish town whose population was destroyed in the Great Patriotic war. We will see the Kamenets war memorial, too, if required and will proceed to Brest.
Hotel check-in will be followed by the military highlight of the day with, obviously, a lunch in between. Brest Fortress, one of the top five most visited attractions of Belarus is actually a ruined Russian Empire fortress based on the four islands. By the time of our visit you'll be aware of the term Great Patriotic War and its significance to Belarusians.
Brest Fortress Terespol Gate, Belarus tour package
The story of Brest Fortress, particularly its 1941 fight against the Nazi is a great example of resistance of the outnumbered Soviet soldiers to the masses of wehrmacht. Brest Fortress tour is majorly a walk across the bridges and alleys of the central island and the nearby areas, including the world-famous Star entrance to the complex.
Fortress construction wiped out Brest city in its time that's why Brest doesn't offer too rich sightseeing potential while evening walks in the area of Lenina Street and the railway station are most enjoyable between May and October.
Next morning, buffet breakfast thoroughly attended to, we shall head out for Minsk with the remaining UNESCO sights on the way castles in Nesvizh and Mir. A visit to Ishkold Roman Catholic Church and a village tour in Ishkold will be a pleasant bonus to start with. Villagers in Belarus are pretty friendly and hospitable and it somewhere as far from Minsk as that one can still find authentic Belarusian village architecture.
Ishkold Village fortified Church, 1472
Curiously enough, Belarus splits into six quite different ethnical districts and each of them has something to boast of. We shall proceed to Nesvizh Castle, a branch of the National Arts Gallery and then to Mir, taking a short break at the castle cellar restaurant – the haven of a traveler seeking to taste Belarusian cuisine.
Armed with a history discussion or just going through the questions and answers we shall embark on the last leg of the trip that will bring us to Minsk. Check in and a short break to recover breath will be followed by a private Minsk city tour with the basic highlights of the capital in hand.
Don't forget that a private tour by nature is flexible and we focus on what's of top interest to you, be that Jewish heritage of Minsk, its Soviet architecture or uptown living area and factories.
Nesvizh castle court view, Belarus tour package
Next morning an airport or train station transfer will be the culmination of this three-day Belarus tour package. Note, that any highlights or cities (Pinsk city tour or a marshland tour with a night in a local village, for instance) can be given a consideration when the itinerary is designed and a night here or there added up to the whole setup.
Naturally, such tours are best to incorporate into Belarus ancestry tours. Pricing is fixed and transparent so there is always a possibility of a double check from your end.
Questions are most welcome – don't hesitate to contact your Minsk private guide)
Top five sights of Belarus
Featured